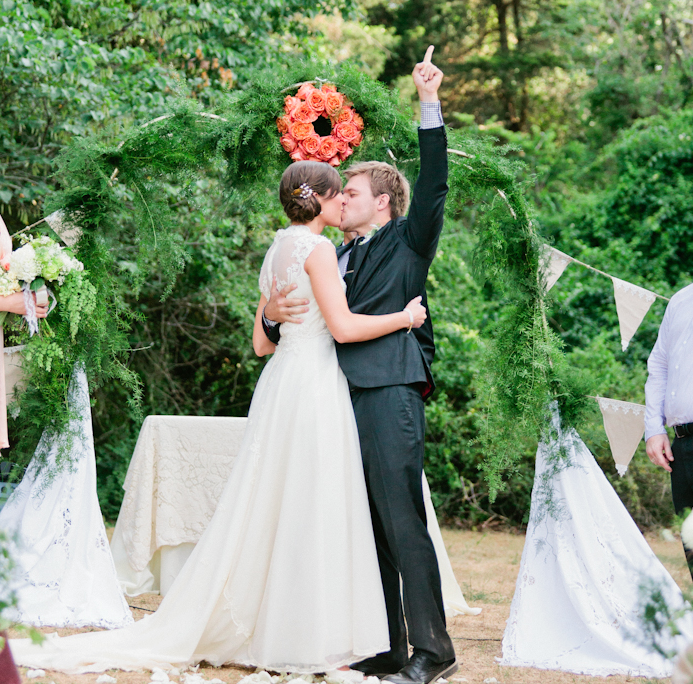 From the Bride:
John and I absolutely loved our wedding. From the beginning, we wanted our wedding to as personal and meaningful as possible. To start, I wore my mother's wedding dress and grandmothers hairpin as I came down the isle to my little sister singing "Sea of Love."  Our officiant was a close friend and mentor to both John and I, and incorporated stories from our families, friends, and dating experiences in the ceremony. Lastly, memories of the wedding will always be kept and cherished because some of our best friends did our photography, videography, and wedding design.
Our vision stemmed simply from what John and I liked. We love neutral tones and rustic accents so a barn was the perfect place for us to have our wedding. Using my mothers dress to inspire me, I designed the cake to be lace inspired, used scraps from my mom's dress (only the sleeves were taken off to alter the look of the dress) to place on my shoes, and hung lace banners from the ceiling. I spent over a year collecting tea cups, vases, dollies, fabric, and antique pieces to accompany what I already had. With lots of help from my mother and sisters we created fun banners and table clothes. I love typography and writing so I spent a lot of time staining wood and writing signs to help bring personal touches to the day. All of my bridesmaids found dresses in boutiques or online in shades of blush to add to the antique palet. I've always taken interest in the design and tradition of henna, and so the night before the wedding I crafted designs on my and all my bridesmaids hands.
Most of all, our wedding was so fun because of the wonderful friends and family that made it there. We couldn't be more thankful for the support that our families gave us throughout the whole wedding process and the great friends that were dedicated to not only the wedding but our marriage. After the sweet ceremony in a nook outside by the barn, we spent the rest of the night in celebration. With wine and beer in hand and fun music all of our guest had a good time. We finished the night singing "We are Young" by Fun to lead us out the door to a sea of sparklers.
Rentals: INTENTS Party Rentals Fayetteville, AR 
Hair Stylist: Jordan Lee Harrison, AR 
Brides Dress: mothers wedding dress
First Dance Song: "Living of Love" Avett Brothers